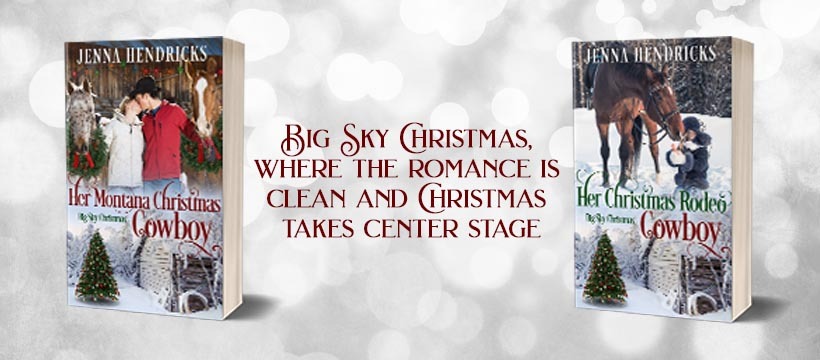 The First Peek at this year's newest hit Christmas series is ready for your reading pleasure!
Her Montana Christmas Cowboy is the first book in a brand new County Christmas Clean Romance series that will have two books out this year! One of which will go live at the end of October! Check out this unedited sneak peek of the prologue today! Then grab your pre-order wherever you buy your books online.
"Oh!" Chloe Manning yelled as her foot slipped where the driveway met wet grass. The water pooling on the concrete driveway wasn't something she'd planned on when scheduling her move. Since it had rained early that morning, she could not have foreseen the hazard and rescheduled. But, she also knew that her brothers and sister had scheduled their week to help on this one day. "Great, just what I ne—"
A strong, masculine hand reached down and offered to help her up.
"Thanks," she said without looking up.
"My pleasure." A husky voice that Chloe didn't recognize turned her face up just as she stood, and she yanked her hand out of his. "Ah!" Not looking where she was going, Chloe fell over the headboard she had dropped when she'd fallen the first time. This time she fell on the wooden headboard and smacked her knee good.
"I'm sorry, I shouldn't have let go until you were steady." The stranger furrowed his brow and bent down to help her get back up, again.
"No, no. It was all my fault." Chloe's face heated up, and she did her best to stand. She inhaled a quick breath when she put pressure on her right leg. While she knew enough medicine to know she hadn't broken anything, she was going to be sore.
In addition, she'd fallen flat on her face not once, but twice, in front of a very handsome cowboy. Her pride had also taken a huge hit. To make matters worse, Chloe hadn't dressed to impress; she was wearing an oversized, faded University of Montana sweatshirt and yoga pants. Her blonde hair was up in a messy ponytail, and she had zero makeup on. The only upside was that she doubted this handsome cowboy would recognize her again.
A bright, white smile greeted her when she stopped wobbling and took a step away from him. "Thank you. I don't know what's gotten into me today."
"Are you the one moving in?" The cowboy looked between her and the house.
Chloe nodded. "Yup."
"Well, welcome to Frenchtown. You must be the new medical billing manager everyone has been talking about." The cute cowboy put his hand out. "I'm Brandon Beck."
Well, there went that thought. He knew exactly who she was. No way was she going to be able to hide her embarrassment behind anonymity.
Standing taller, she straightened her sweatshirt and blew her bangs out of her eyes. When she took his hand, a jolt of electricity swept through her entire being. "Ah, I'm…" She cleared her throat. "I'm Chloe Manning." She shook his hand and noted the calluses, but also the strength in his warm touch.
"Nice to meet you, Miss Manning." When he ended the handshake, he touched the brim of his hat and nodded.
"This is my sister, Elizabeth, and our brothers." Chloe pointed to them all and introduced her five brothers to Brandon.
Elizabeth looked between Chloe and Brandon and gave her twin sister a sly smile. If Elizabeth didn't know better, she'd think Chloe already had an admirer. But really, who wouldn't be attracted to Chloe, even in moving clothes? The men of Beacon Creek had always admired her sister. The only reason Chloe wasn't already married was because she had made it known far and wide that she wanted to move away as soon as possible.
Brandon took a closer look at the newest resident to Frenchtown, and something in his gut told him to watch out for this little filly. She just might cause him to fall at her feet. He wondered if that would be so bad.
***
Once Brandon had moved on, the sisters went inside with the headboard and set it up in Chloe's new bedroom.
"Wow, sis. You did good. This is a rental?" Elizabeth Manning walked around the room checking out the wooden floor and blocked wainscoting on all the walls. "There's so much potential with this place."
Chloe Manning agreed. She couldn't wait until the day the owners let her buy it. This was exactly what she wanted. The deal she'd made was to rent for a year, and if everyone was happy then she would buy it. The owners wanted to make sure she stayed there with her job and didn't go home. Mr. and Mrs. Rice, who owned the quaint house, lived next door and felt it was important to like their neighbors. They worried if they sold her the house now, she would leave and sell to someone they may not like.
Chloe knew she was home and wouldn't be going anywhere. "Yes, I think I'm going to be very happy in this house, and in this town." She beamed at her sister as they unloaded their boxes into a spare room.
Chloe and Elizabeth were twins. While Chloe had always wanted to get out of Beacon Creek, Elizabeth was happy to live there for the rest of her life. When Chloe was offered the chance to move to Frenchtown and manage the local medical clinic's administrative side, she'd jumped at the chance to leave her small hometown. Not that Frenchtown was much bigger, but it did offer her a chance at new experiences and a promotion at work.
The plan was to work in the Frenchtown Clinic and manage it for the next five to seven years, and then she could start applying for jobs in the big cities, like Bozeman or Helena. Then, she would be doing exactly what she had wanted her entire life—get out of Dodge, so to speak.
"What about the men? If they're all as handsome as that cowboy we just met, then I think I won't be the only one getting married next year," Elizabeth teased her sister.
Heat shot up Chloe's neck and face. She deserved the ribbing after everything she'd put Elizabeth through when her now fiancé came back to town last summer.
The man who had helped Chloe up from the ground was gorgeous. Too bad he'd met her when she was at her worst. No makeup, hair a mess, and then to fall flat on her backside? She knew he wouldn't be back.
Just thinking about slipping and falling in front of the handsome Brandon Beck caused her face to heat up again. She wasn't normally a klutz, but today seemed to be her day of making a fool out of herself.
Even after he'd helped her up, she'd still tripped over the headboard because she wasn't looking where she was going. Instead, she was focused on the very good-looking and tall cowboy with chocolate-brown eyes and medium-brown hair that looked as though it needed a cut. His hair curled around his ears and above the back of his collar, which only served to make Chloe even more attracted to the cowboy.
All she could think of was running her fingers through his soft hair. Where that thought came from, she couldn't say. But when she'd realized where her mind was, that was when she'd tripped over the headboard.
____________
Well, what do you think? If you've read Second Chance Ranch, the girls in this Sneak Peek should seem familiar to you.
This new book is Chloe's story and it takes us a few hours away from Beacon Creek to Frenchtown, Montana! And for those of you who haven't read Second Chance Ranch yet, no worries. There's no need to have read that book yet. But, for those who have, sit back and enjoy Chloe's story and the twists and turns that her love life takes a year after she moved to Frenchtown, Montana!
Grab your pre-order here: https://books2read.com/WEB-Her-Montana-Christmas-Cowboy
But don't take too long, it will go exclusively into Kindle Unlimited at the beginning of November 2020.